Southesk Estate lies to the south-east of Brechin, on the banks of the River South Esk. In 2013 the estate obtained planning permission and a water abstraction licence for a 100kW hydro scheme at Kinnaird, an historic weir which once served mills on each bank of the river. With reductions expected in the Feed in Tariffs, Southesk Estate realised that they needed the help of an experienced hydro developer to take the project forward to a successful conclusion.
Glen Hydro was appointed in 2014 to project manage the design, construction and commissioning stages of the project. Preliminary accreditation was secured in Sep 2014, providing a two year window to complete the scheme.
The site presented a number of challenges:
The South Esk is an important salmon river and contains colonies of freshwater pearl mussels
The river has strong flows, experiencing floods in excess of 100 m3/s in many years
Kinnaird weir provides the water supply to a fish farm, which could not be allowed to be interrupted or polluted in any way
The weir dates from Victorian times, with many partial repairs carried out over the years and little known about its internal structure
Spaans Babcock were selected to provide the M&E package and associated civil design. Glen Hydro worked closely with the Spaans design team to ensure the overall design was optimised for the site, and complied with the requirements of the planning consent and CAR licence.
The key design parameters of the scheme are:
Head
2.1m
Rated Flow:
6.5 m3/s
Screw diameter:
3.6m
Maximum power:
100kW
On completion of the detailed design, Glen Hydro undertook a tendering process to select a civil contractor. A firm with previous experience of screw turbine projects was appointed, to help reduce risk. Due to manufacturing lead times the turbine could not be delivered until spring 2016, but the civil works were started in 2015 with the aim of completing as much as possible by the end of the working window allowed by SEPA before the start of the salmon spawning season. The contractors overcame difficulties with de-watering the site and successfully completed the majority of the turbine housing in 2015.

Work Starts
Work re-started in May 2016 after the salmon spawning season with the installation of the turbine and completion of the generator house, and the scheme was commissioned in early August, well in advance of the 30 September deadline.
Throughout the construction Glen Hydro maintained good control over costs, resulting in the project being delivered on time and to budget. Close contact was maintained with the planning authority and SEPA, as well as local angling interests and the fish farm operators to ensure that the construction proceeded smoothly with as little impact as possible on other users of the river.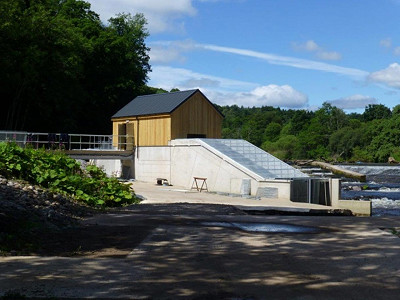 Charles Gow, the estate Factor, said
'Glen Hydro were appointed project managers for the Estate's low head hydro electric scheme on the River South Esk, being an SAC for salmon and fresh water pearl mussels. Everything went smoothly and the project was completed well within time and under budget. I have no hesitation in recommending them, and especially Tim Copeland of the firm, for similar projects.'