Hydropower projects are simple in principle yet surprisingly complex in execution. The combination of bespoke civil, electrical and mechanical systems in often-remote locations with numerous regulatory restrictions and connection challenges can introduce significant risk. With good planning, the process can be smooth, but there a lot of potential sources of expensive mistakes and lengthy delays to overcome. Our extensive experience in developing Scottish hydro schemes means we can achieve this. It essential to manage the delivery of multiple parallel tasks, each being progressed just enough with minimum outlay to expose associated risks that steer a project to successful conclusion.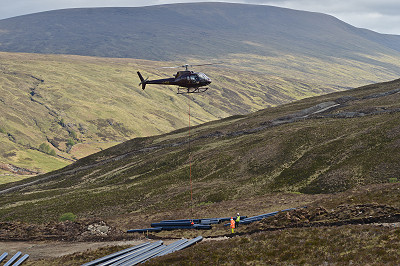 Flexible approach
Project management is a broad term and means different things to different people. We do not have a prescribed way of delivering projects but respond to the needs of the client and project to provide a service that is appropriate. This can range from a comprehensive project management service where the client is almost completely at arm's length and we deliver within an agreed budget and timescale; to an arrangement whereby the client manages the budget and contracts directly and we provide specialist assistance or resource where required.
The approach to be taken commonly depends on the scale and complexity of the project, the client's experience and availability, and the sensitivity of the budget and/or programme. In simple terms there are clear distinctions between contract supervision (which normally involves inspection, monitoring and reporting of works), contract management (which adds contract administration and usually budget and programme management) and project management (where responsibility is broadened out to the entire project, not just specific contracts).
Regardless of the scope of our role the principles that we apply are common. We consider proactive and open communication to be fundamental to successful project delivery, this often includes elements of formal and ad hoc reporting. The scope of our role is defined in detail by the authority that is delegated by the client – this is usually of most importance with respect to the budget and could include complete authority including contingency, or purely administration with all of the significant decision making authority resting with the client. Finally, proactive risk management and mitigation is crucial. We strongly believe that it is better to confront risks and agree a plan of action (which could be to do nothing) rather than to brush them aside or hope they go away, which is an all too common response.
The principles of our approach to project management are based on the PRINCE2 standard. This is much more comprehensive and resource intensive than most hydro projects could support but the roles, processes and techniques are transferable and applicable.
Complete service
Where clients' require it we are able to offer a comprehensive service, allowing the client to be freed of detailed day to day involvement in the project delivery. This could include the appointment of operational contracts as well as management of the construction phase – ensuring that power purchase and supply, metering, insurance, operations and maintenance and caretaker appointments are all in place before the scheme starts operation.